The State of Switch 2019
After two years on the market, just how is the Nintendo Switch doing?
I recently asked Nintendo fans to tell me (by way of a survey) what they thought about the Nintendo Switch now that it's been on the market for two years.
I was overwhelmed by the response  -  over 15,000 of you kindly took the time to answer my questions. The survey covered a wide range of topics, on things such as hardware quality, the growing games line-up, the paid online service and more.
Two years on from the Switch's launch, I'm delighted to be able to share with you the results from the second annual State of Switch survey.
Just like last year, there's a great deal of data and results to delve through here, so I've broken the findings down into various sections.
---
❌ Folks without a Switch
I started out the survey by asking if respondents actually own a Switch. This seems like as good a place as any to start.
Of course, most of those filling out the survey are Switch owners (97%)  -  but I wanted to know from those who are yet to get one, just what was holding them back:
Around 3% of survey respondents do not own a Nintendo Switch.
This 3% represents around 450 responses.
Of those without a Switch, the majority (92%) do intend to buy (or receive) one at some point in the future. Of course, this is largely an expected response from such an enquiring audience.

Just like last year, pricing was the main reason for people holding off on getting a Switch. 
Over 50% of those intending to get a Switch at some point said they're waiting for an official price drop.
Around $200 USD seems to be the sweet spot for those waiting it out.
Another popular reason people are waiting: hardware revisions. This is something that has been rumoured as possibly happening at some point this year. 
The fear of buying a Switch, only for a new one to be 'just around the corner' was noted a few times. 
Other leading reasons for waiting were: 'just timing' and 'waiting for a specific game'.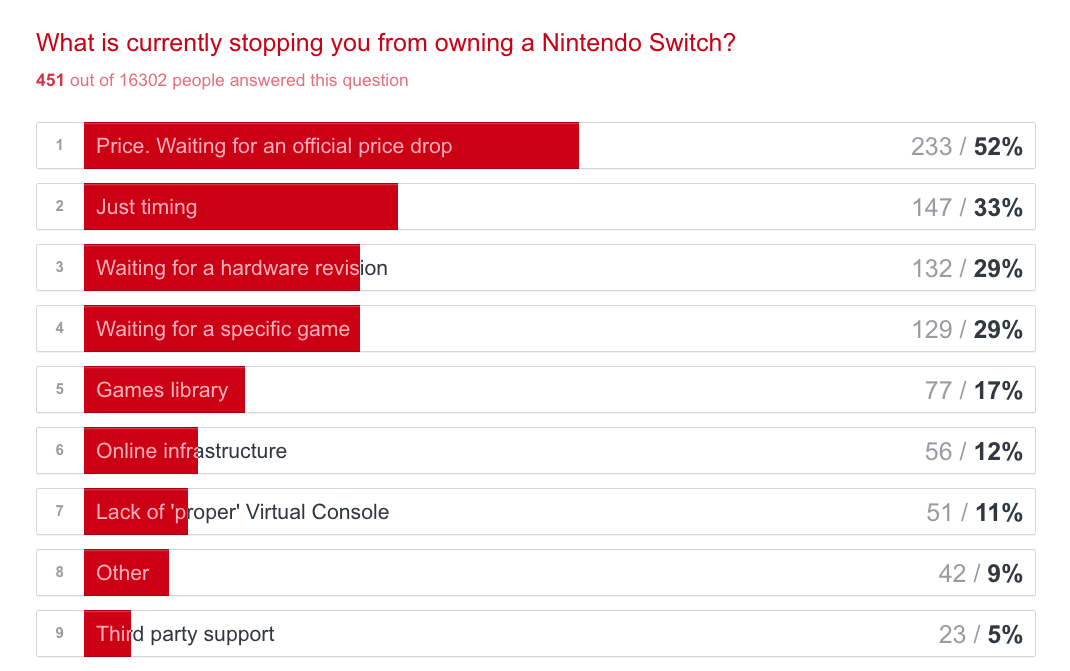 So, what games are people waiting for before buying a Switch? Animal Crossing was by far and away the most popular response  -  people are holding out for Nook, Isabelle and the gang. The next mainline Pokemon games were also a highly popular choice (Sword and Shield were revealed whilst this survey was running), along with Metroid Prime 4 and Super Mario Maker 2. These are the big games people are waiting on before getting a Switch.
A number of people are also clamouring for a new Golden Sun entry, with a handful of people holding out for a new F-Zero. To the two respondents waiting for Mother 3 before getting a Switch, I'd take it up with Reggie before he leaves. 😅
---
🛒 Getting a Switch
Next, I moved on to asking questions of those with a Switch (around 15,800 respondents). First up was finding out when they got their Switch and where from.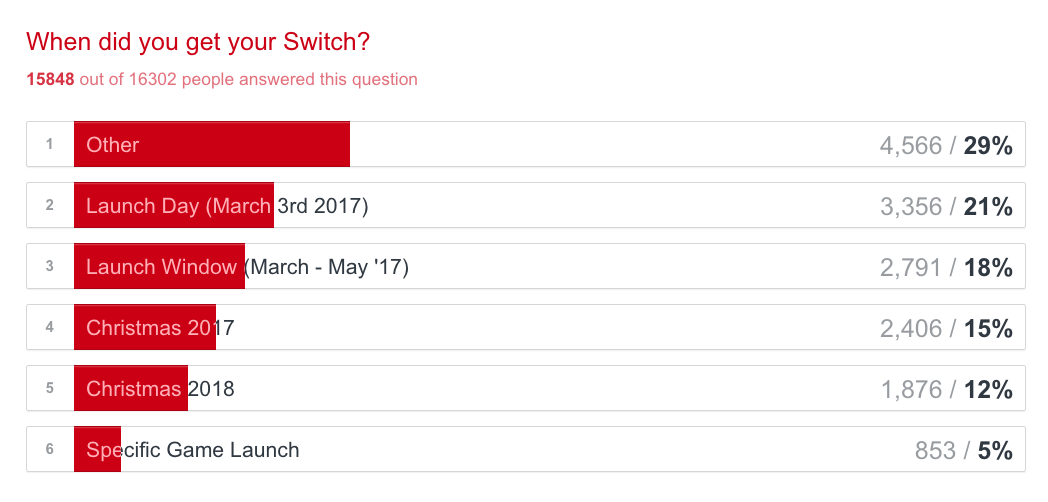 There isn't too much to read into on the chart above. Sales around holidays and product launches are kinda obvious.
In last year's survey, 'Launch Day' was the most popular answer  -  but as time has passed it makes sense for the broad 'Other' option to take the lead here.
The 'Specific Game Launch' option on this question sheds some light on what you might consider to be 'system sellers'. With data from around 850 responses, here are the games that drove folks to go and pick up a Switch:
Super Smash Bros. Ultimate
Super Mario Odyssey
Pokemon Let's Go Pikachu/Eevee
Splatoon 2
The above games saw the majority of responses, but titles like Octopath Traveller and Monster Hunter Generations Ultimate also drove hardware sales.
Oh, and two respondents said they went and got a Switch following the reveal of Tetris 99. The power of Battle Royale!
Much to my surprise, most people are still buying hardware at a brick-and-mortar retail store: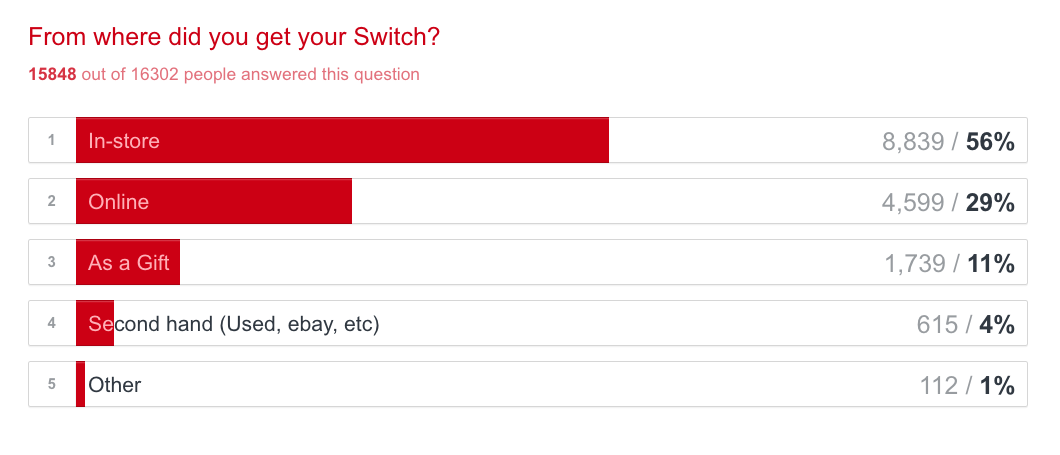 Over 50% of respondents said they picked up a Switch IRL.
These real-world pick-ups were from stores such as Argos, GAME, ASDA, Smyths, Elgiganten, FNAC and Carrefour across Europe. Retailers like Best Buy, Costco, Fry's, Gamestop, Target, Wal-Mart and EB Games proved popular in North America. Big W in Australia, and Japan's Bic Camera also saw plenty of mentions.
Toys-R-Us also saw numerous mentions. Gone but not forgotten Geoffrey. 🦒
Surprising no-one, most folks buying online went via Amazon. A good number went official though, and bought direct from Nintendo's website (this is only available in certain regions however).
I was kinda surprised to see that buying online wasn't the preferred method just yet. I guess when it comes to big purchases people still prefer the immediate tangibility of retail.
Following feedback last year, a new option I added for 2019's survey was for second hand purchases. This includes buying from eBay, Facebook Marketplace, craigslist, etc  -  such purchases made up 4% of responses here.
One respondent won their Switch in a Frito-Lay chips competition  -  so congrats on that. 🎉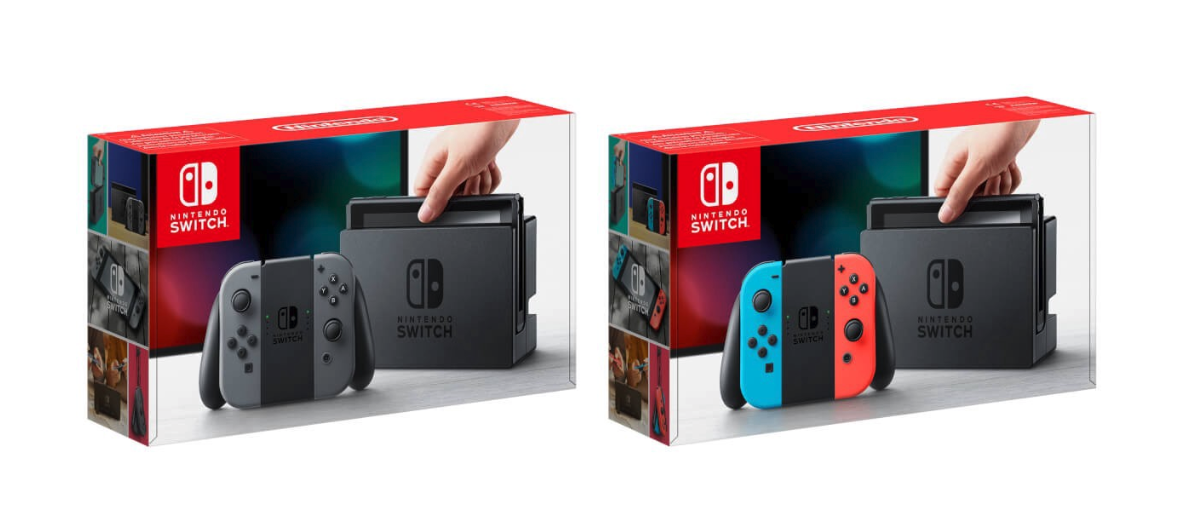 Nintendo have now sold in excess of 30-million Switch units worldwide, but from what I can gather they have never broken down sales by Grey vs. Neon bundles.
I remarked last year that I regretted my choice in going Grey, thinking on reflection that the Neon look is cooler. Turns out, people still prefer the Grey - but only just.

Now, there is only a couple of hundred in it. The Grey/Neon choice is pretty close here.
The 'Other' option on this question is for official bundles, with Super Mario Odyssey seemingly being the most popular bundle on offer. Smash Bros and Pokemon bundles saw plenty of love too. A handful of folks grabbed the Diablo III bundle too  -  third party bundles can work.
One alternative way of looking at this? Bundles – which mostly have coloured Joy-Cons, when combined with Neon, outnumber plain Grey.
---
🎮 All about the Games
Next up is a collection of questions about Switch software - particularly what games people own, how they buy them, and which titles they're playing the most.
Switch owners have an average of around 16 games.
This is up on the average of 10 games owned given in last year's survey.
I then asked which single game people have spent the most time in. This involved folks checking their Switch user bio to find out. As you might expect, this one had a wide range of responses. Here are the ten most common replies: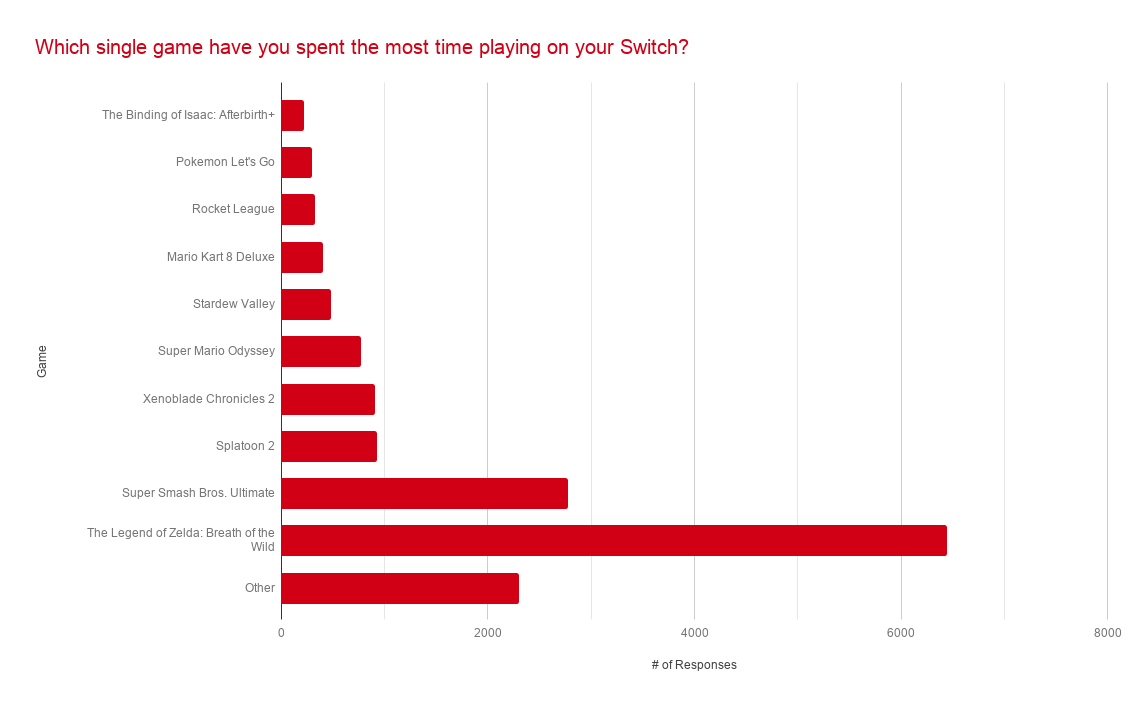 Breath of the Wild is the stand out, still racking in the hours, despite being a single player game from back at launch. The other titles near the top of the playtime stack make sense, Smash and Splatoon are multiplayer time sinks.
Notable mentions that didn't quite make the top ten, but saw plenty of playtime include, Skyrim, Octopath Traveller, Monster Hunter Generations Ultimate, Hollow Knight, Fortnite, Enter the Gungeon and Diablo III.
One thing to note here is that in the table above the Pokemon: Let's Go! titles are combined (both Pikachu and Eevee).
Digital or Physical?
When asked what percentage of people's games library was digital versus physical, the answer was pretty much in the middle, at around 50/50. The exact figure was 52% in favour of digital.
This was a similar result to last year, but I somewhat expected this to be higher in favour of digital this time around. The Switch's digital library has exploded, with the console now home to over 1,700 games, and indie studios often report on their eShop success. I'd say my Switch library is more 80/20 in favour of digital titles. Could this be that those responding are more physical 'collectors'?
First-Party Published Games
When asked about which first-party published Nintendo games people owned, over 80% said they had The Legend of Zelda: Breath of the Wild and Super Smash Bros. Ultimate.
This attach rate for Super Smash Bros. Ultimate is particularly impressive considering the game came out in December of 2018 and this survey was conducted only a couple of months later in February of 2019.
Over 70% of Switch respondents said they had Super Mario Odyssey and Mario Kart 8 Deluxe.
Just over 40% of Switch survey respondents picked up one of 2018's Let's Go Pokemon games, and the split between Pikachu and Eevee was fairly even. Of those who answered this question, 22% had the Pikachu version, with 20% going for Eevee.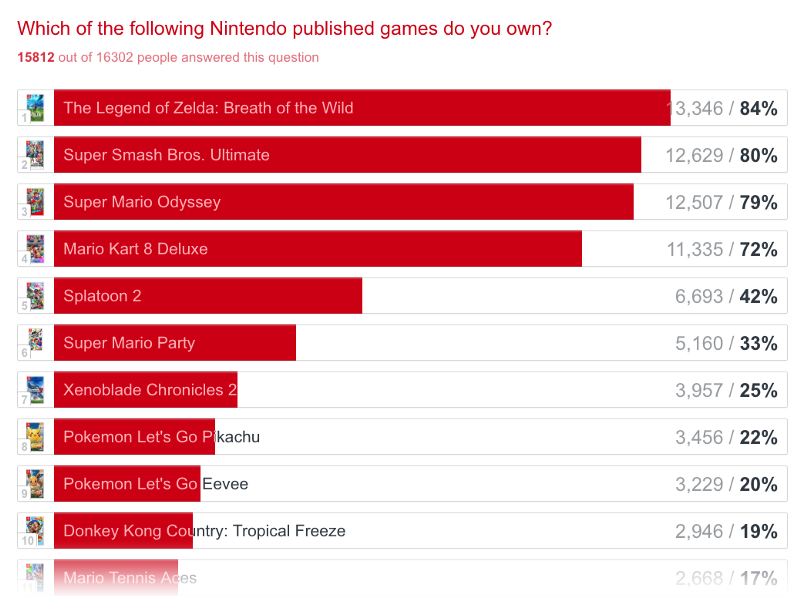 Of those answering the above question, only around 6% owned one of the three LABO kits.
 
The Variety LABO kit proved to be the most popular amongst respondents.
When I asked last year whether people were interested in LABO, over half did say no, so its performance here doesn't strike me as a surprise.
Region Free
I asked if Switch owners had bought games from outside their 'home' region  -  whether it be from another country's eShop, or importing physical copies of a game.
78% of respondents had not bought games from a different region, despite the Switch being region free. 
Of those who had bought games from a different region, the reason was usually either price or availability. 
Other reasons people imported or used a different eShop, included getting an otherwise unavailable demo or physical release, moving to a new country, and language selection.
Whilst on the eShop I also asked survey respondents if they had any recommendations on how the eShop could be improved. Common responses included wanting to see user ratings/reviews (this is something Nintendo briefly experimented with but then took away) and better discovery.
This point of eShop discovery was by far the most widespread point made. Folks want better search, more filtering options, improved categories, more curation, personalised game recommendations and more.
Oh, and quite a few of you said you wanted some music on the eShop whilst browsing and I have to agree.
How about them ports?
Nintendo has continued to bring across old games to the Switch, and it's increasingly common for third parties to now bring back games from their back catalogue too.
Last year, I asked whether folks wanted to see more old ports from Nintendo, and around 78% of respondents said yes. Well, this year, attitudes to ports on the Switch seem to have improved slightly, as that number now lies at 82%.

Seemingly, the Switch has become an accepted home for re-releases. The portability of the machine no doubt plays a huge role in this embrace of ports.
But ports alone aren't enough of course, so I asked respondents to pick: If Nintendo had to focus on one area, ports or new franchises - which would it be. Here are the results:

This tells a similar story to last year, with very little movement in results. The story this result tells me? Nintendo need to strike a balance, releasing new stuff like ARMS and Splatoon, but also dipping into their back catalogue from time to time. It's a balancing act for sure.
---
🙌 How you play Switch
This next set of questions covers things like play-style, controller preferences, accessories and more.

Docked or not?
First up, I wanted to know how people play their Switch, was it docked, handheld or even table-top? Last year I only gave the option for docked (TV) or handheld. After some feedback this year I also included Table-top mode, which made sense considering it's an official play-style which Nintendo often call out. Here's the results on how people play:

TV mode has the edge here, just. Last year, the opposite was true - but like I said above, I didn't give an option for table-top mode in 2018, and that makes up the difference here really. Either way, if you just look at this question as docked versus undocked, it's still a pretty even story.
Personally I play almost exclusively in handheld, but know people who are the complete opposite. This versatility is what makes the product so appealing in my mind. The flexibility the Switch offers is something I'm constantly appreciative of.
Controllers
Next up, I asked about control methods.
Switch owners have an average of three controllers. Note: A pair of Joy-Cons counts as 'one' controller here.
The Pro Controller is still the most favoured way to play on Switch.
Other popular controllers include the GameCube pad, 8BitDo products and the Power A pads.

Memory Juice
The microSD card slot behind the kickstand is the only way to boost the memory of your Switch - so, how many people use it?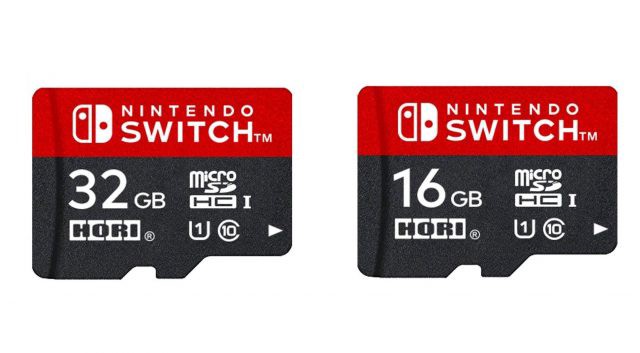 75% of respondents have a microSD card in their Switch.
Last year, this was around 55% - larger capacity cards have seemingly gotten a little cheaper, so that may be why more people have grabbed one.
Nearly half (45%) of those with a microSD card in their Switch have a 128GB card. 64GB is the second most popular size, with 256GB in third.
Portable chargers for the Switch still aren't a 'thing'. Only around 20% of survey respondents use one. This is near enough the same response as last year - so despite people voicing battery life concerns with the Switch, they don't really seem to be an issue in practice.
I rounded out this section of questions by asking how many people use each Nintendo Switch. It turns out for most people it's a solo affair.

I think for next year's survey (yep, I plan on doing this again) I'd ask this differently. I imagine many people may have multiple user profiles (for shopping in different eShop regions for example), which may skew the results here.
Finally, most Switch owners said they spend around 6.6 hours each week gaming. This is up ever so slightly from the 6.5 hours reported last year.
---
📡 Switching Online
After a few delays, the Nintendo Switch Online service launched proper in September of 2018. Last year I asked how many respondents would be willing to sign up to such a service, and around 70% of respondents said they would.
Funnily enough, 70% of respondents are now members:

Of these members, the majority have an Annual membership. A significant number of folks are part of a Family plan - where you can share your membership with up-to eight others. It seems a fair few are taking advantage of this as a way to get a cheaper online membership.

Around 10% of respondents were on a monthly plan, with just 3% on a Quarterly plan.
I asked why people signed up for the online service. This multiple choice question resulted in the following: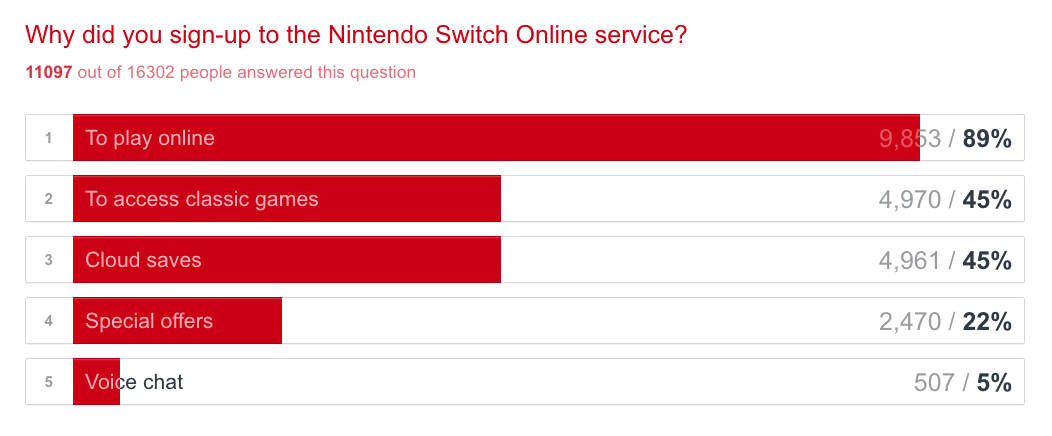 It's of little surprise to me to see such low importance placed on voice chat here - I think most Switch owners have given up on Nintendo providing a decent voice chat solution for now. 95% of respondents said they don't use Nintendo's voice chat app. The survey showed that most people will go to Discord when they want to chat.
Amusingly, around 10% of those answering a question on voice chat said they will use the voice chat service of another console (PS4/ Xbox One) to chat whilst playing on Switch.

As part of the Nintendo Switch Online membership you get access to a growing library of classic Nintendo Entertainment System (NES) titles. Over 80% of Switch Online members said they have played some of the retro games on offer. Although for the most part the playtime here is pretty low overall, with most having only played them for less than two hours.

Finally, I asked about whether people thought the Nintendo Switch Online service represented good value. Over half did, but it leaves plenty of room for improvement.

---
🧰 Durability
This is a new set of questions that I introduced this year, mainly following a few reports throughout 2018 of Switch case cracks. I wanted to see whether this was a widespread problem or some edge cases that may now no longer be an issue.
To begin I generally asked: Have you had any problems with your Nintendo Switch - whether hardware or software? Around 70% of survey respondents reported no issues. I also invited comments on the hardware quality here, for the most part they claimed that the hardware is durable, but could be better.
Of those who did face problems, the issues were usually either software crashes or some battery related issue. However, the biggest complaint from Switch owners by far was that of Joy-Con 'drift'. A sizeable number of responses outlined this as a problem. Here's an article from iMore which may help in being able to fix it.
I then went on to ask if the hardware as a whole is showing general signs of wear-and-tear. Here are the results:

Personally, my Switch is holding up pretty good. The only noticeable sign of ageing I can see is on the Joy-Cons, where the thumb grips are starting to wear down a little.
Overall, people seem pretty happy with their Nintendo Switch. When I asked them to rate it out of 5, the average score was 4.5.

---
✍️ Improvements & Changes
I asked folks, if they could, what one thing they could change about the Switch - both in hardware and software.
First, I asked about desired hardware changes. Most people want to see improved battery life and the addition of Bluetooth support.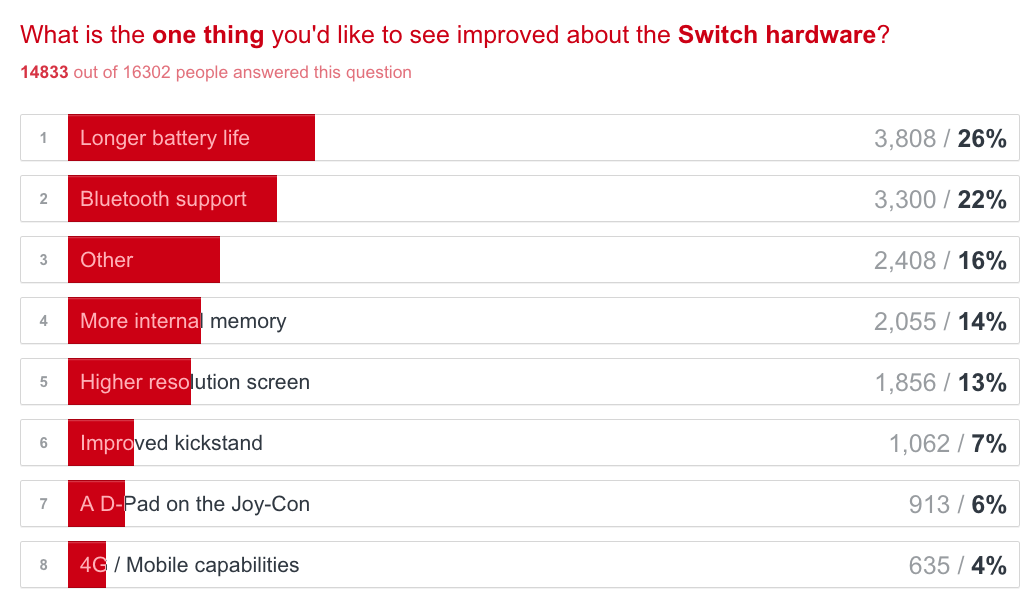 On the software side, people are clamouring for some sort of on-device messaging system. Last year, cloud saves were the most requested software feature - which we now have (if you pay), so that's progress of sorts.
Media apps such as Netflix are still a popular request.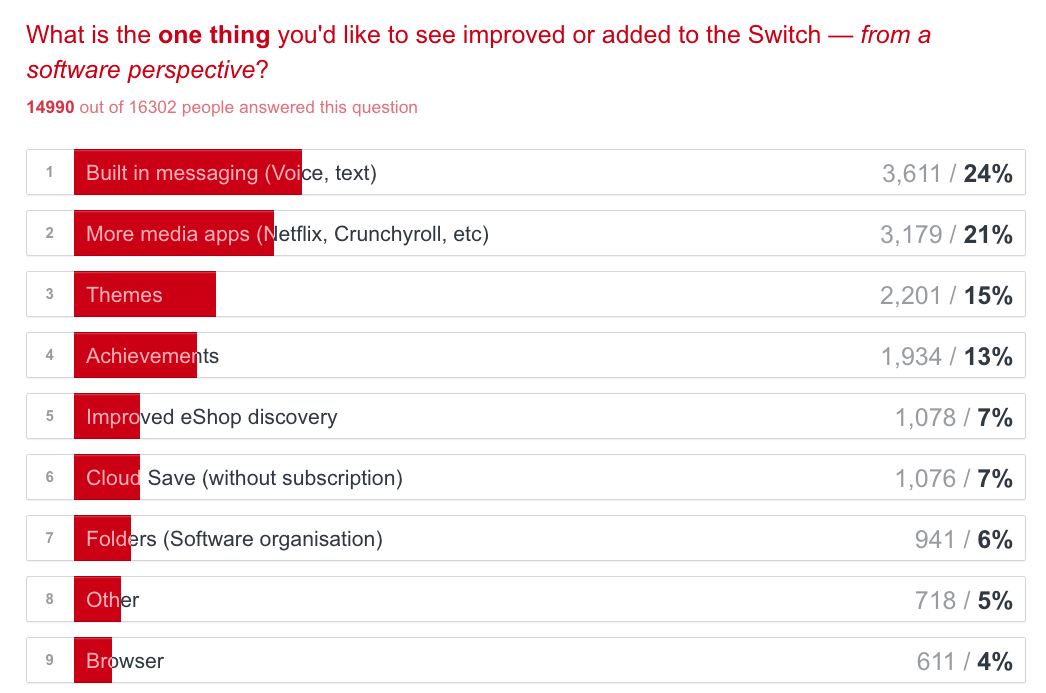 As the above data shows, people aren't too fussed about a browser on the Switch - I forgot to include this as an option last year, but it didn't get much support this year anyway. 🤷‍♂️
---
🔮 Looking ahead
This last set of data is the area of unknowns. I asked a bunch of questions on games people want to see, and what they think about future Switch revisions.
First up: What one Nintendo franchise do people want to see more than anything else come to the Switch next.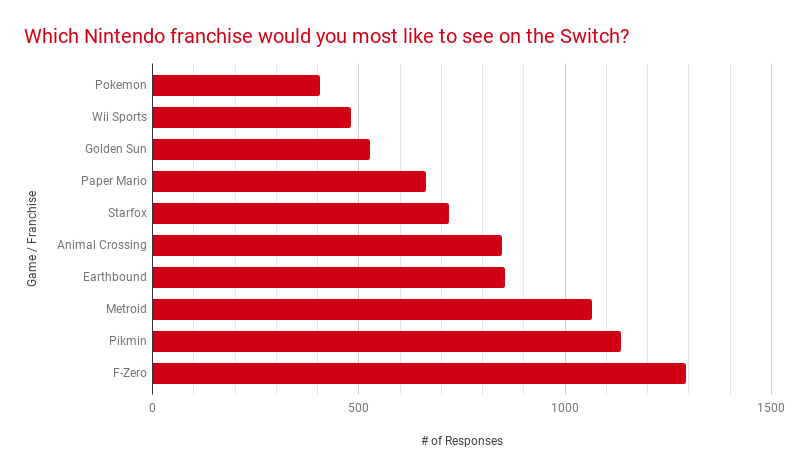 Turns out folks have a need for speed, as F-Zero topped the list. It's been a long time since we've had an F-Zero game - it's long over due. Pikmin came in second, with many no doubt pondering just where Pikmin 4 is.
Metroid, whether it be Prime 4 or a 2D entry ranked high, as did any flavour of Earthbound/Mother. Of course we know Animal Crossing is on the way, so it's just a case of patience on that one. An FYI: I did mention when asking this question that folks shouldn't include games which are "already out, or already announced", but what can you do. 😉
Plenty mentioned they wanted more Starfox, (but one that isn't anything to do with Starlink it would seem), Golden Sun and more Sports games seemed popular too - time to bust out Mii Sports Nintendo!
Other titles that didn't quite make the top ten responses but got plenty of love include: Kid Icarus, Wario (be it Ware or Land), more Zelda, a football Mario game ala Super Mario Strikers, Advance Wars, a new Pokemon Mystery Dungeon entry and Nintendogs to name but a few.
Oh, and five people said they want to see a Waluigi game on the Switch. Wah!
When it comes to third party franchises people want to see on the Switch, here's what proved popular: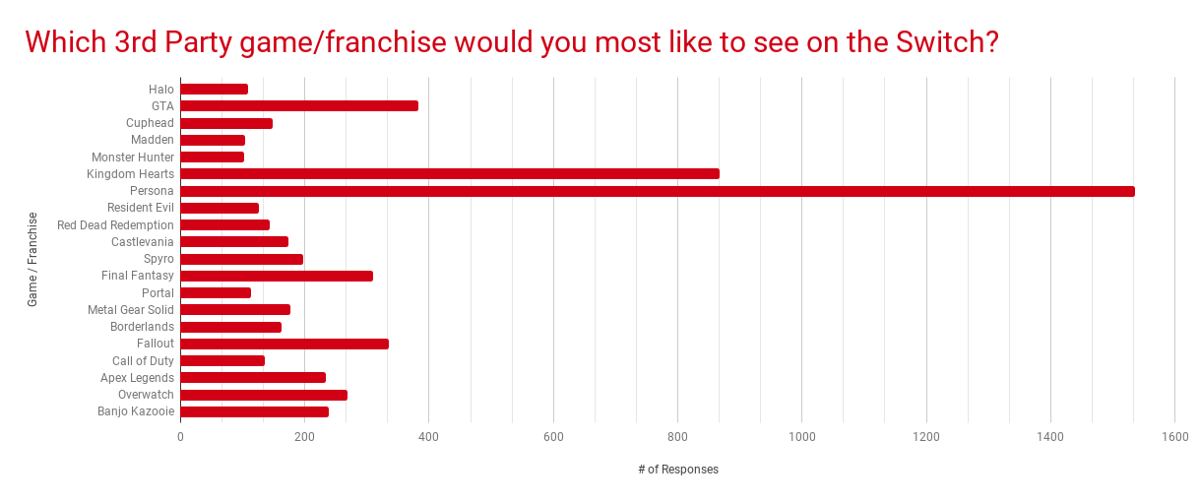 Persona and Kingdom Hearts take the top spots here - this isn't a huge surprise, what with Joker coming to Smash, and the recent release of Kingdom Hearts III. Both of these series are at the forefront of people's minds right now.
Apex Legends also saw plenty of requests, but I can't see it happening. People wanted Fortnite a lot in last year's survey, so I understand why it's a popular choice.
Fallout and GTA were also big choices.
I was surprised to see Final Fantasy as such a requested franchise - don't we have enough on the way for now? However, I will note, a lot of Final Fantasy responses were specifically wanting Final Fantasy Tactics.
Banjo Kazooie got plenty of requests, and well, Nintendo and Microsoft seem like pals right now, so who knows.
New Hardware Anyone?
Moving on, I asked straight up, how likely respondents would be to buy a revised Switch without knowing any details. There have been plenty of rumours suggesting we would be getting new Switch hardware, possibly even this year, so I wanted to do a little test on how folks may respond to that.

Of course, as we don't know any details beyond scant gossip it's hard to gain any clear sense of purchase intent here. This question shows that at least half would at least consider any Switch revision. On reflection, I think this question could have been phrased better.
But what do we think people would prefer in such a machine? A 'Pro' boosted machine with better tech, or a slimmed down version? Here's the results:

90% want a Pro. This response doesn't come as much surprise really - those filling out this question are Switch users already who can no doubt easily imagine the benefits an improved Pro machine may offer, over what a simplified Mini may bring. The Mini may be compromise for different price points, so those already with a Switch are more likely to upgrade I reckon.
---
🎉 That's it!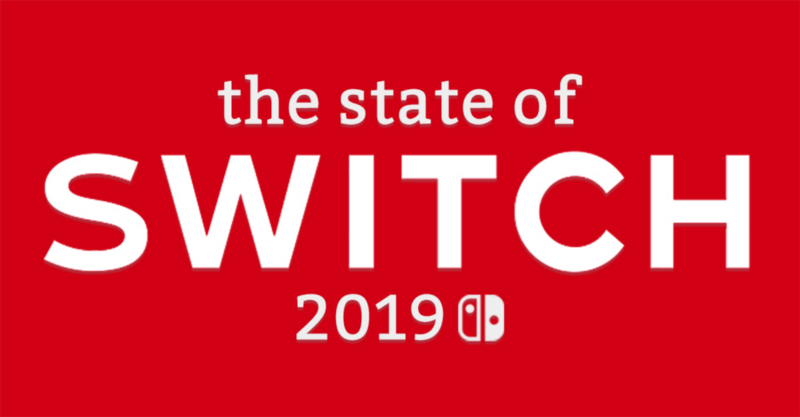 Thank you so much for taking a look through the survey results - I hope they proved interesting.
I'd like to take a moment to thank all of you who took the time to fill it out, share it and make the survey such a success. I ran the survey for the first time last year, and saw over 1,500 responses - for 2019 over 15,000 of you had your say, so to see such a massive increase in feedback is humbling.
I'll be back next year, so if you took the survey and have any suggestions please do leave a comment or let me know via Twitter.
Thanks,
Chris ✌️
---