The State of Switch 2021
After four successful years on the market, here's what folks make of Nintendo's hybrid console.
When the Nintendo Switch launched in 2017 it felt like a real breath of fresh air following the admittedly somewhat miserable Wii U era. Because of this positive change in direction, I wanted to check on how the Nintendo community as a whole felt about this then-new hybrid machine — as such, the State of Switch survey was born.
Four years later, and here we are. The Nintendo Switch is undoubtedly a massive runaway success, having now sold over 80 million units worldwide. It's home to countless smash hit games, a ton of unique exclusive experiences, is something of an indie darling, and has a staggering catalogue of titles with games to suit all tastes. The droughts of the Wii U days are but a distant memory.
So yes, on a big picture level, the Switch is, and remains, a bonafide hit for Nintendo. But what do the Nintendo enthusiasts make of it in 2021? That's where the State of Switch survey comes in.
Now in its fourth year, this detailed questionnaire helps paint a picture of how the Nintendo community at large feels about the Switch in general. It covers a wide range of themes, including game ownership, hardware issues (such as Joy-Con drift), playstyle preferences, future expectations, and much much more.
Every year sees a sizeable response, and 2021 was no different — over 11,500 folks took part. Thank you so much to all those who took the time to provide the Nintendo community with these insights. It's a real joy to be able to share this with you.
Here's what thousands of Nintendo enthusiasts have to say about the Nintendo Switch in 2021.
---
Table of Contents:
---
🙅 Don't own a Switch...yet
The survey always opens up by asking whether the person responding owns any Nintendo Switch console.
Yes, this is primarily a survey for Switch owners, but these initial questions help us establish a little bit of insight into just why some folks are yet to get Nintendo's hybrid machine.
This year, these are the key takeaways from those without a Switch:
Out of all those taking part, just 1.6% of respondents said they do not currently own a Nintendo Switch.
From this group without a Switch, 81% said they do intend to buy or receive one at some point. These sort of figures are in no way surprising for what's evidently an enquiring audience.
Waiting for a hardware revision was the main reason noted as to why respondents do not yet own a Switch.
As the above chart shows, in years prior price was always the leading factor as to why folks had not yet got a Switch, by a sizeable margin. This year however marks the first time an alternative reason (hardware) has been top. Just over 28% said they were waiting for a new model, whereas 21% listed price as their key reason.
Admittedly there has been a notable increase in credible rumours and speculation on new hardware during the last year. I also imagine there is probably some sort of influence in thinking following the launches of new hardware from both Sony and Microsoft: folks are now poised for what's next from Nintendo to some extent.
In addition to waiting on new hardware, the price remains a sticking point for many (21.2% of non-Switch owners).
I asked what price those without a Switch would happily pay. The average response for an original Switch was around $200 USD. The MSRP is currently $299.99.
The average price those without any Switch would be willing to pay for a Switch Lite was $150 USD. The MSRP is currently $199.99.
Those that are price sensitive think Nintendo's consoles are between $50 to $100 too high. Last year this was $60 to $70, so there's been some movement on both ends of the scale.
Other reasons people have yet to get a Switch (shown combined in the above chart) include the lack of virtual console (3.6%), waiting for a specific game (4.7%) - the Breath of the Wild sequel was mentioned a few times here, personal timing reasons (15.3%), stock issues (3.2%) and more. One person said the current Joy-Con drift issues were putting them off from buying the console, another noted their parents won't let them get one 🥺.
---
🤩 Tell me about your Switch
This next section rounds up the responses from those who currently own a Nintendo Switch (around 11,400 respondents).
Due to the introduction of the Nintendo Switch Lite in late 2019, the survey now starts by asking which model(s) it is that people own.
No surprises here — the majority of survey respondents (91.5%) own the regular Nintendo Switch.
Just under three percent of those answering (2.8%) own just a Nintendo Switch Lite. I would have expected this number to have been slightly higher over last year (2.15%, as shown in the chart below) due to the Lite having now been on the market longer — some 17 months versus just 5 months for last year's survey.
Dual ownership (having both a regular Switch and the Lite) comes in at 5.5%. Last year I noted that this was probably due to the enthusiast crowd answering this survey, however, based on feedback from survey respondents this year it's clear that multi-Switch households are becoming increasingly common, as it was a leading factor to the numbers seen here.
Most folks explained that they have both machines so they can easily play with their partner or siblings.
A few noted they now use the original Switch as an exclusively docked machine, with the Lite taking up handheld play duties.
A couple of collectors noted they have both/multiple machines as, well... they like collecting Nintendo stuff.
A handful of respondents detailed that the restrictiveness of Animal Crossing islands was the reason behind them having more than one Switch. A costly way to play!
A few folks mentioned that they bought a Lite and didn't actually like the form factor so 'upgraded' and got the original, in turn handing the Lite to another member of their household. The opposite was also true, with some noting the original Switch was too heavy, so they moved to the newer Lite model.
"Bought a Lite first but realized it is not for me. Decided to buy a Mario edition original Switch last week and been having a lot of fun with docked mode rather than portable only."
"I bought the original Switch a year after launch. When Animal Crossing: New Horizons came out I wanted to have a Switch Lite so that my wife could have her own island. We like to use both when we play multiplayer games and plan to use them to play Monster Hunter Rise together."
"I encountered Joy-Con drift on my original Switch and that started happening during the pandemic (Covid) when Joy-Con replacements were hard to get/find. I decided to get a Lite as the smaller size appealed to me and I liked the idea of having a dedicated handheld since I play mainly in handheld anyway."
"I actually have five in my home. An original Switch and Pink (Coral) Lite for myself. Then three Switch's for each kid and a Lite for my wife. I have two because I like the docked option but the form factor and feel of the Lite is better for handheld."
Now, going beyond the split of regular and Lite, I also ask about which specific model(s) people own, including colour variations.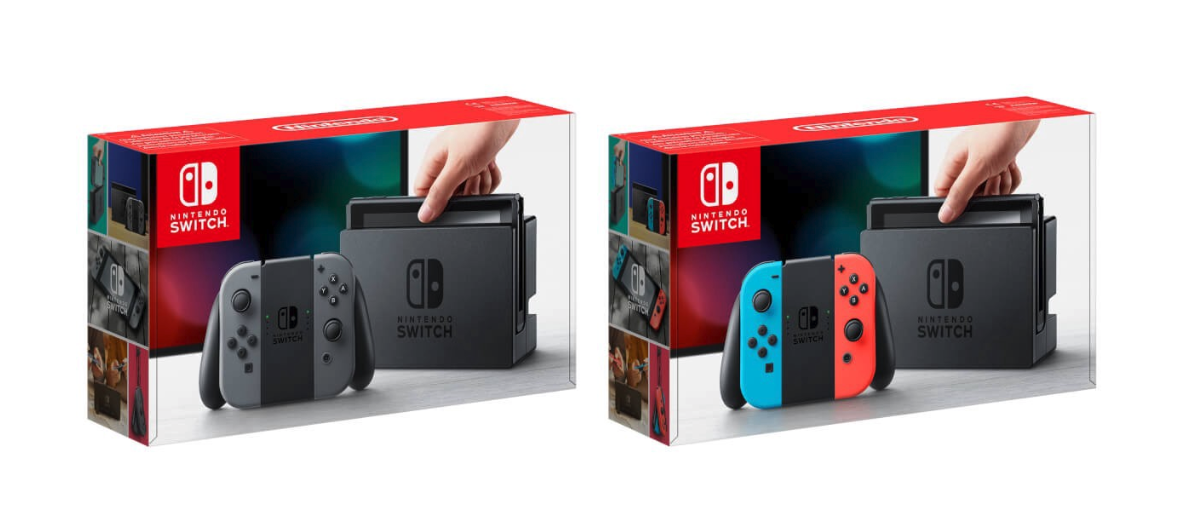 Last year saw the Neon Joy-Con variants come out on top as the most popular, and this year is no different. For the first two years of running this survey, the grey models took the top spot. I think over time folks came to realise the Neon is just so much cooler. Here's the data:
46.9% of respondents own a Switch model with Neon Joy-Cons (this includes both the original and updated battery model).
Some 37.3% own a Switch with Grey Joy-Cons (this includes both the original and updated battery model).
A combined 6.6% of respondents own a Switch Lite.
Turquoise remains the most popular Switch Lite colour for the second year running, followed by Grey and then Yellow.
However, I will note: I embarrassingly forgot to include the Coral pink Switch Lite in the survey! 🙈 So keep that in mind when reviewing the above Lite stats.
The final 9% of respondents own one of the limited edition Switch consoles, such as the Fortnite bundle, or Pokemon Switch Lite. This is up from 4.98% in 2020.
---
💸 Buying habits
A few questions put forward wanted to get an idea of some of the basic buying habits of Switch owners. Here's what I found:
Switch owners indicated they spend on average around $100 USD per month on gaming.
The median spend came in at $67 USD per month. This median is no doubt a more representative value, as it's clear a few avid gamers/collector types push up the average value seen here.
As the chart below shows, most folks (781 respondents) noted a typical spend of $60 USD.
A spend of around $60 USD feels about right for an enthusiast crowd — this can be thought of as one 'big' release/game per month, or a handful of indie titles.
The pie chart below shows the breakdown of average spend amounts.
When combining the values seen in the pie above, 70% spend between $0-$60 on gaming per month. The other 30% spend anywhere between $61 and $500+.
Moving on — most folks (just over 50% of all sales since the 2017 launch) bought their Switch in a physical store.
This is slightly down over last year, no doubt due to the pandemic.
30% of respondents got their Nintendo Switch online.
Around 14% got their Switch as a gift.
Just over 5% of respondents got their Switch second hand (such as via eBay, craigslist, Facebook Marketplace, etc)
When shopping in-store a few retailers stood out as the popular options, with GameStop, Best Buy, and Target coming out on top.
Other common brick and mortar choices included the likes of Walmart, EB Games, GAME, Media Markt, Toys-R-Us (RIP), JB Hi-FI, Argos, Saturn, and countless local retailers.
When buying online, Amazon remains by far and away the most popular retailer.
Other online retailers that saw plenty of mentions included Best Buy, GameStop, Nintendo's online store (available in certain markets), Target, Walmart, eBay, and other national retailers.
When shopping on Nintendo's eShop nearly 70% said they've bought a game solely because it was on sale.

When asked what game(s) drove people to pick up a Switch, the following titles were mentioned as 'system sellers'. Animal Crossing: New Horizons saw the most responses, followed by Super Mario Odyssey and Super Smash Bros. Ultimate.
Titles such as Pokemon (various), Fire Emblem: Three Houses, Splatoon 2, and Super Mario Maker 2 also saw a notable number of 'system seller' responses.
83.4% of respondents indicated that they did not pre-order their Nintendo Switch hardware. This makes sense, as the need to pre-order is only really a big need during a consoles early days.
In addition to asking about pre-ordering hardware, I also asked whether folks pre-order software and if they did, why:
56.1% of respondents said that they do actively pre-order upcoming software releases, versus the 43.8% of those who do not.
As for why people pre-order, the most popular reason was to ensure they had the game available/delivered on release day (day one). Being able to pre-load a title ready to play immediately was also a highly popular response here.
Exclusive pre-order bonuses remain appealing for many.
Getting a discount for pre-ordering, just ensuring availability, ordering in advance as not to forget release day, and just being excited / part of the collective hype for a release were also common reasons listed.
"Depends on the game. For the most part, it's to ensure I have it day one/pre-load. Bonuses are fun, but generally not a deciding point for me."
"...sometimes games that are really hyped-up are fun to play on day one, when the community is buzzing with excitement."
"Generally when I pre-order a game, it's one that I'm very excited about. Therefore I like pre-ordering so I can play it as soon as it's available."
---
Next, I asked if respondents had ever experienced stock-shortages of any form when trying to buy Switch-related things, whether that's hardware or software.
I added this question to the survey last year following increased reports of folks having trouble getting a Switch, or specific games such as Ring Fit Adventure.
In a very similar result to the 2020 survey, nearly 40% of 2021 survey respondents noted that they had faced some sort of stock shortages when trying to buy something Switch-related.
In a follow-up question I asked what items folks were struggling to purchase:
The most common response here was unsurprisingly Switch hardware (including special editions such as the Animal Crossing themed Switch), followed by Ring Fit Adventure, controllers (such as new colour Joy-Con sets), Amiibo, and a slew of select games — including Animal Crossing: New Horizons, Fire Emblem: Three Houses, Xenoblade Chronicles 2, and Super Mario 3D All-Stars.
Although coming in at a 60/40 split means the majority didn't face shortages — this figure still seems notable. Last year I chalked this up to maybe being operational issues, seasonal demands, or supply problems beyond Nintendo's control. I imagine the pandemic has not helped Nintendo overcome any existing challenges they may have been facing here.
---
🎮 All about the Games
The next set of questions were all about Nintendo Switch software. As such, the results here dive into things like how many games people currently own for their Switch, most played titles, the physical/digital game ownership split, and more.
Those with a Switch own an average of 28 games.
This is up 16.6% on last year — the 2020 average answer was 24.
In 2019 the average answer was 16 games owned. In 2018 it was 10 games owned.
The above values are all averages, the 2021 median response for this question is 20 games owned.
These healthy, growing attach rates reflect a strong digital marketplace and a wide library of available titles. There are currently over 5,000 games available on the Nintendo Switch.
The below violin plot shows the distribution of responses over the past four years. The wider shape/spread shows how common a response.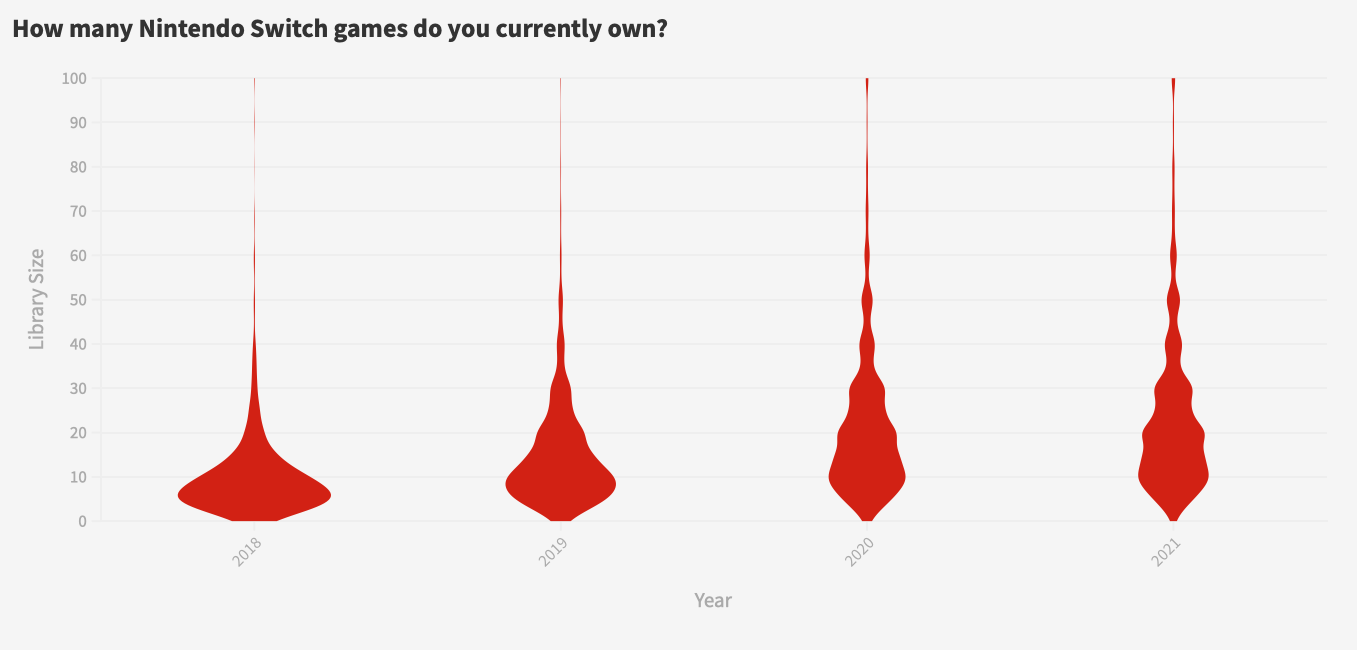 As you'd expect, during the early stages of the Switch's life, it was more common for people to have a smaller library of games.
As the chart above highlights, the distribution has now stretched up over the years, highlighting larger/growing libraries.
Of the 11,282 respondents who filled out this question, 401 (3.5%) said they have 100 or more Switch games.
As ever, some avid collectors no doubt filled out the survey, as a fair few respondents said they owned several hundred games for the Switch - pushing up the average.
One respondent said they owned more than 1,000 games.
I asked which is the one game every Switch owner needs to have. Breath of the Wild was the top answer, followed by Super Mario Odyssey, and Mario Kart 8 Deluxe.
I asked respondents how many games they had in their backlog — these are games a player has bought/received but not yet played or finished. The median response for backlog titles was 5 games.
A little over 20% of the 10,852 respondents to this backlog question (20.56%) indicated they had 10 or more games to revisit. Just over 1% said they had over 100 games in their backlog.
I asked a similar question, this time on games deemed 'abandoned' — meaning a player has started a game but since given up on it entirely for whatever reason (such as disliking it, finding it too difficult, etc). The median response for abandoned games was 3.
---
Each year I also ask respondents to share what percentage of their current Switch library is digital.
Over the four years that I've now been running this survey, the results for this question remain fairly consistent.
For 2021, the figure stands at just over 51% digital. This is surprisingly down slightly on the 2020 survey, where digital ownership stood at 55%.
My expectation here would have been a slight year-over-year increase for digital game ownership due to the pandemic. Not so.
In 2019, the figure was 52%, with 2018 coming in at just shy of 50%. Either way, the bird's eye view of this still looks fairly 50/50, with only a few percentage points in it.
Yes, digital game ownership has a slight edge, but I've always been surprised at how consistent and close the balance is here. The Switch is now home to over 5,000 games, and the majority of releases are digital-only. This fact alone has always left me with the impression that the digital/physical split would grow stronger in favour of digital ownership over time — but the numbers here paint a slightly different, more balanced and stable picture.
People still want physical games, and these figures, although slowly turning towards a digital future, suggest that if a title is available in a tangible form, folks will seek it out.
A quick aside for those keeping tabs: The Switch library is now over 5,000 titles strong. Last year this was just over 3,000, and in 2019 this figure stood at around 1,700. An insane continued year-on-year growth in available titles. Switch owners are not short on things to play.
---
Next, I asked respondents which Nintendo-published games they have picked up. There's an often-repeated adage about people getting a Nintendo console purely for the Nintendo games, and whilst not a complete truth, it's a huge driving force. Nintendo exclusives are a massive pull for the Switch — so many of Nintendo's titles are evergreen and go on to see crazy high attach rates.
Yes, we get regular official sales data from Nintendo on most of these games, but I find it interesting to ask all the same — it's a good way of getting a picture of how things move year-on-year, and shows what's appealing to the most engaged Nintendo fans. Here's what the data (from 10,409 responses) shows:

Over 90% of survey respondents said they own The Legend of Zelda: Breath of the Wild. This attach rate (91.81%) is up on last year again by around five percent.
Just above 80% of those responding said they own Super Mario Odyssey.
Over 70% of those responding said they own Super Smash Bros. Ultimate, Mario Kart 8 Deluxe, and Animal Crossing: New Horizons.
Seeing the 2020 release Animal Crossing with such a high attach rate (75.08%) is impressive when you consider how long it has been on the market, especially when compared to the other titles noted here.
The five titles mentioned above really seem to be cemented as the system seller 'must owns'.
Late 2020 release Super Mario 3D All-Stars comes in at 57.13% ownership — I imagine the fact this was a timed, limited release helped this game reach such an impressive attach rate amongst survey respondents so quickly.
Super Mario Maker 2, Fire Emblem: Three Houses, Splatoon 2, and Luigi's Mansion 3 all sat between 35% to 40% ownership.
Pokemon Sword remains more popular than Pokemon Shield, with the former beating the latter at 33.93% to 26.18% ownership respectively.
26% of those replying own Ring Fit Adventure, this is up from 15% last year.
23% picked up Hyrule Warriors: Age of Calamity.
Just under 20% indicated that they own Paper Mario: The Origami King (19.93%).
Around 15% of respondents said they own Clubhouse Games: 51 Worldwide Classics (14.35%).
Only 10% said they owned Pikmin 3 Deluxe.
---
As I outlined above, over 70% of survey respondents said they owned Super Smash Bros. Ultimate (77.76%). I asked these folks a few Smash-related follow-up questions.
Out of the 8095 survey respondents who own Super Smash Bros. Ultimate, over 5000 (64.2%) said they had bought some downloadable content for the game.
Unsurprisingly, the two Fighters Pass bundles came out as the top DLC buys — these bundles bring together a pack of new fighters for a lower price than buying them individually.
A good number of folks have downloaded one of the 'Mii Fighter' costumes
On an individual basis, Joker was the top paid DLC fighter choice, followed by Minecraft's Steve, then Banjo & Kazooie.
Terry and Min-Min were the least popular DLC choices.
I then wanted to know who Smash owners would like to see join the roster as a future DLC character. Any decisions on new DLC characters are no doubt all already made and tied up, so this remains a 'just for fun' question — and we wouldn't want to be making any more demands of Sakurai.
So, here are the top six answers given, when asked who folks would like to see join the Smash Bros. Ultimate roster:

Yup, Waluigi came out on top again, followed by Crash Bandicoot, Master Chief, Sora, The Knight from Hollow Knight, and Doom Guy.
I asked the same question last year and saw a similar top six. However, Minecraft Steve was a top choice in 2020, but seeing as he has since been added to the roster, we now see The Knight from Hollow Knight take a top spot.
Other popular Smash requests included: Pheonix Wright, Dante, Geno (despite getting a Mii Fighter Costume), Rayman, Goku, a Monster Hunter rep of some sort, Paper Mario, 2B, Spyro, Waddle Dee, Professor Layton, Skull Kid, and a ton more.
A fair few said they wanted to see Captain Toad come to the game, others noted that Tom Nook would be a neat addition. A handful wanted to see Jonesy from Fortnite join the roster. Oh, and a fair few just said "not another anime sword fighter". Shout out to the two people who added my name. 😅
---
Next, I asked which single-game people have spent the most time playing on their Nintendo Switch. This can be checked in a Switch user's bio. This question always sees a wide range of responses. Here are the top five most common replies:
The Legend of Zelda: Breath of the Wild
Animal Crossing: New Horizons
Super Smash Bros. Ultimate
Fire Emblem: Three Houses
Splatoon 2
When compared to last year the results are very similar, with only Animal Crossing: New Horizons being a new top five entry. It's no surprise to see the island getaway chart, as the game is quite the time sink. It will be interesting to see if Animal Crossing can topple the incredible staying power of Breath of the Wild - the Zelda launch title has sat at the top of this playtime question for the past four years. Will this change in 2022?
The chart below shows what other titles proved popular here (seeing more than 100 responses), it includes the likes of Xenoblade Chronicles 2, Fortnite, and 2020 indie hit Hades.
Other common responses include Minecraft, Rocket League, Diablo III, Skyrim, Hollow Knight, and Dragon Quest XI S.
I then went on to ask which single-game people had spent the most time with during 2020 specifically. I wanted to see whether any games stood out here, as gaming habits undoubtedly changed for many during the last year.
Animal Crossing: New Horizons, the 'game of the pandemic', took the top spot here, and by quite the margin.
---
There is a growing number of free-to-play games available on the Switch, such as Fortnite, Paladins, and Rocket League — I asked whether survey respondents had played any of these complimentary titles.
52.6% said they had played one of these free-to-play games.
47.3% indicated that they have not played any of these free titles.
Of those who have tried these free-to-start games, only 21.4% said they had made an in-game purchase of some sort (battle pass, skins, cosmetics, etc).
---
So, how do people feel about Nintendo porting older titles such as Pikmin 3 and Super Mario 3D World to the Switch? Most folks remain ok with it, as 76% of respondents would be happy to see more ports on the hybrid system. This is down slightly on last year where 87% said they would be happy with more ports.
When I asked to pick whether Nintendo should work on creating new franchises (like Splatoon) or concentrate on returning old series, such as F-Zero, the split was nearly 50/50, slightly in favour of creating brand new games (51.5%).
I asked what genre folks feel is best represented on the Nintendo Switch, and platformers came out as the top answer, followed by RPGs. Metroidvania / Roguelikes was a popular response here too.
As for what genre is under-represented on the Switch, survey respondents felt that there aren't enough FPS/Shooter games on the console. Racing and sports title was also a common answer here.
---
Next, I asked if folks take advantage of the Switch being region-free. I asked respondents if they had played any games from a country other than their own — be that a physical copy or a digital game via the Nintendo eShop.
Only 23.8% of those who replied to this said yes, meaning a massive 76.2% do not take advantage of the region-free nature of the Switch.
Amongst those who do take advantage of the Switch being a region-free machine, the top reason for using this feature was due to a game's limited availability (50.7%) — such as it not being on sale in their country. The cost was also a driving factor here (24%), and a fair number of folks detailed that they had moved to another country (8.8%) and this feature had made things easier for them. A handful of responses mentioned region-free games had been gifted or bought whilst on vacation.
---
🛍 On the eShop
Next is a series of questions around user behaviour when using Switch's digital store — the Nintendo eShop.
When viewing a games eShop listing, some 86% of respondents will read the games text description.
Of that 86%, 31% read the text description in full, 55% scan/read at least some of it — this highlights the importance that this text has in regards to potentially influencing buying decisions.
14% of users indicated that they tend not to read a game's description on the eShop — this may be due to having done research prior, such as reading about a game online or watching a trailer elsewhere.
If an eShop listing has a video trailer available people are highly likely to watch it.
Over 70% of respondents said they will watch a trailer if available.
I also asked whether folks look at the images (screenshots) available in an eShop listing. Most do.
49% of respondents will look at all available screenshots. Whereas 44% will at least look at some of them.
Nearly 60% of Switch owners make use of the Wish List feature available on the eShop.
As a follow-up to the above, I asked how much an eShop listing influences a user's purchasing decisions.
The response here wasn't overly strong either way, with most saying it was only 'somewhat influential'.
An interesting data point here for publishers/developers. When I asked how likely a Switch player is to download a game demo from the eShop the results showed a fairly middling response. Although the majority here did say they would be likely to grab a demo (35%), it was not by a particularly convincing margin.
The Nintendo Switch has a 'Gold Coins' rewards feature in which users get points when making a purchase that they can then for a discount on a future game. I asked if users tend to save this up or spend them with each purchase. 55% indicated that they use them whenever, whereas 45% said they like to save them up, using them only once they have a substantial amount.
---
Finally on the eShop I asked folks what they would do to improve the eShop store experience. Here are some of the most common responses:
A desire for a review system of some variety remains the top request. This was top in last year's survey too.
An alternative to reviews is a simpler 'ratings' system. A lot of folks listed this as something they would like to see in the eShop.
A novel choice, but adding background music to the store was as ever a popular request. In fact, it was the third most common reply! Just imagine...
Faster load times and making performance improvements came up a lot. This was also a common answer last year, so it's a shame to see little progress from Nintendo here. The word 'lag' was mentioned a ton.
The Switch now has over 5,000 games — as such, I saw a notable increase in the number of folks asking for 'quality control' or 'less shovelware' on the store. Having a rating system (for verified purchases) would probably go some way to help this issue.
Discoverability on the eShop remains a sticking point — folks want to see search and filtering improvements, along with more sort/category options. Again, this becomes more of an active issue as the library grows.
Being able to gift a game to someone is still very much wanted.
A notable number of responses said they would like to see a cart added to the store when buying multiple games.
Here's just a few comments people left about the eShop:
"Better overall organization so that I can discover games that I have never heard about without needing to scour the internet for the 'must buy Nintendo Switch games'."
"Allow for a cart so multiple items can be purchased at once as opposed to each item individually. Extremely annoying to have to buy each thing separately and showing up as such on my card statements."
"A more intuitive UI, honestly I just use dekudeals.com because of the number of times I've accidentally hit back or gone back out of the scrolling I was doing because of drift."
"A user rating system that separates reviewers into three categories. All reviews, reviews of people who purchased the game, reviews of people who purchased the game and played the game a certain amount of time, such as 10 hours."
"Adding in a user rating system would be beneficial to help weed out some of the shovelware on the eShop. It would also help avoid the whole bait and switch some games use when severely discounting their game just so it ends up on the best sellers list."
"Having a 'games similar to this one' feature would be nice"
In last year's survey, someone added that they would like to see a "section where you can see what games your friends play" — now this hasn't been added to the eShop, but a feature called 'Trending with Friends' was added to the User menu found on the home screen. This page highlights which games your friends are playing, and how many of them are playing a said game. Nice to see this added!
I commented last year that how the eShop works no longer best serves the user. The library of games is now over 5,000 and I see an average of around 20-30 new titles being added every week. It was clear last year that the eShop requires a radical rethink, so it's a shame to see so little improvement over the past 12 months to change anything here. The eShop was embellished with a Mario theme...but some performance and discoverability changes would have been far more welcome.
---
🙌 How you play your Switch
For the next set of questions, I explored things such as prefered play-style, which controllers folks like to use, and more.
On average, Switch owners will generally spend around 5.5 hours a week playing/using their console.
The median response here is 5 hours per week on the Switch.
This average is down from 7 hours in last year's survey — although not a big change, it's unexpected. My expectation here would have been a slight year over year increase owing to us all spending more time at home as a result of the pandemic.
The Switch remains a solo-affair. When asked how many people use a respondents Switch, the average answer was 1.5, with the median response being 1. This preference not to share a Switch somewhat aligns with the growing trend of multi-Switch households.
Playing on the TV remains the most popular playstyle, and is the prefered way to play for 55.7% of Switch owners.
Handheld comes in next, with table-top play the least prefered option.

The average Switch owner has around three controllers. This matches the data from both 2020 and 2019.
Over 65% of respondents said the Pro Controller is their input device of choice.
The Pro Controller is the top control method for Switch owners, the included Joy-Con Grip was the second preference, with split Joy-Con playing taking the third spot.
72.5% of respondents said they do not own a third-party controller. I'd suggest maybe giving some a try if you want to avoid drift 😏...but more on that later.
Of those 27.5% of respondents with a third-party controller, the most popular choices for third-party gamepads are from 8BitDo and PowerA. Hori and PDP also saw a good number of responses here.
Nearly 90% of Switch owners have a microSD card in their machine (87.9%).
Of those using a memory card, the 128GB capacity remains the top choice for folks.
256GB was the second top answer, whereas last year the second most common response was 64GB.
Higher capacity cards in general (such as 256GB, 512GB, and 400GB) saw a notable increase in ownership over last year. This trend will continue as the price of these cards falls.
Nearly 100 Switch owners said they had the pricey 1TB microSD cards in their Switch.
Only 19% of Switch owners said they use a portable battery charger with their console. It seems the battery life on the Switch doesn't pose much of an issue for the majority of players.
---
📡 Switching Online
Of those responding, nearly 90% indicated that they have been or currently are a paying member of the Nintendo Switch Online service (89.6%). This is around ten percent up on last year (2020), which itself was ten percent up on the year before that (2019). The service has seen a steady 10% growth year over year for the last three years.
I asked the remaining 10% why it is they have never signed up for Nintendo's online offering. Common reasons included just not needing it/not playing online games, budgeting reasons, and it not being deemed worth the cost.
Here are a few quick comments from those who aren't currently Switch Online customers:
"..I don't like the idea to pay to get features that in 2021 should be a standard like cloud saving."
"Because it's P2P and not actual Nintendo servers, so it's based on who is the host and usually all hosts have poor upload speeds."
"From what I've seen (especially with SSBU), it doesn't look to be worth it. I'm also pretty disappointed that Nintendo got rid of Virtual Console in favor of locking retro games behind their paid subscription - I don't really want to support that decision."
Around 60% of paying members are on the annual plan. This is no surprise, as this is a cost-effective option when compared to the monthly and quarterly options.
A sizeable number of respondents indicated that they're in a Family membership (25.7%) — this is a shared plan that works out cheaper still if you can form a group (of up to eight members).
I asked those in a Family membership if they were sharing the plan with anyone outside of their immediate family, nearly 64% said they were. Having a mix of friends, family, and folks from the internet seemed to be the more common approach to how this plan is used, and it makes perfect sense as it's simple enough to group and enjoy the shared savings.
I also asked if any Switch Online users have cancelled their membership and rejoined at any point. Only 19% of respondents said they had, typically as a way to save some money. A few noted they cancelled as they weren't using the service much, and a few others said they were just taking a break.
The main reason people are members of the Switch Online service is of course to play online, access to classic Nintendo games (NES and SNES apps) is also a big draw, and was the second most common reason for signing up. Cloud saves and access to exclusive titles like Tetris 99 also saw plenty of mentions.
Only 5.6% of paying Nintendo Switch Online members use the Nintendo Switch Online app for voice chat. It remains an unpopular option and isn't particularly well supported by many games. As such it's no surprise an overwhelming 94.4% opt to use something else. Discord is the top alternative for voice chat.
As the current solution for voice chat remains so unpopular, I asked what users would prefer Nintendo to do. Of the 9230 people who answered this question most (44.2%) said they would like to see Nintendo integrate their own voice service directly onto the Switch, doing away with the need for a separate smartphone app. Having other voice services, such as Discord, integrated into the system was also a popular option here (41.6%). Some games on the Switch, such as Fortnite and Overwatch, have their own voice chat service available in-game without the need for any separate system — 11.5% said they would be ok with more games taking this approach. Only 2.7% said they would just like to see more games adopt the current official app as the solution for voice chat.
---

Access to the classic games SNES and NES games is a leading reason people are paying Switch Online members — as such, I asked these members if they had played any of the growing collection of retro titles available. Just over 85% indicated that they had.
However, although such a large group of respondents indicated they had played the NES and SNES games on offer, they don't appear to have spent much time with them. Average play-time for these older titles (whether NES or SNES) falls between 0-5 hours for the majority of players. Folks played SNES titles longer than the NES collection — but not by much.
The SNES games on offer are by far the more popular selection. I asked what single game available as part of the Switch Online membership people have played the most. The Legend of Zelda: A Link to the Past was by far the number one choice, followed by other SNES classics like Super Mario World, Super Metroid, and Donkey Kong Country. Super Mario Bros. 3 was the top NES game mentioned.
I asked which game people want to see added to the NES and SNES collections. Here's a selection of top responses, highlight what titles folks want to see next (in order of # responses): Earthbound, Super Mario RPG: Legend of the Seven Stars, Chrono Trigger, Final Fantasy titles, various Mega Man games, Castlevania, TMNT: Turtles in Time, Tetris, Street Fighter 2, and Battletoads. I think this shows there is still plenty of low-hanging fruit here, and it would be nice to see some of these popular titles join the service alongside the more obscure releases Nintendo has been adding of late.
With plenty of NES and SNES games now available, I thought I should ask about what people hope to see in the future. So, I asked if having to pick just one, which library of games would folks most like to see come to the Switch Online service next.
The top, and probably obvious answer, was the Nintendo 64. This makes sense and would follow the home console progression from NES, to SNES, to N64. GameCube was the second most common response, followed by the Game Boy Advance. If I was a betting man, I'd wager that we're more likely to see Game Boy / GBA titles before we see N64 ones. We shall see.
Just under 60% of Nintendo Switch Online members said they think the service provides good value for money. I asked members to rate the current service out of five. 40.6% rated the service 3 out of 5. Whichever way you look at it, there's still plenty of room for improvement here.
I closed this section by asking for any further comments members may have about Nintendo's online service. Common points raised included: Wanting to see dedicated servers for multiplayer, adding a native messaging system with voice support, wanting more classic games made available on a more consistent schedule, and offering eShop discounts to members.
---
🧰 Durability, Improvements & Changes
This next section features responses to questions relating to hardware and software issues.
Just like last year, I start by asking about Joy-Con drift.
Of the 11,131 respondents to the question "Have you experienced Joy-Con drift?" over 65% said yes.
In the 2020 survey 54.5% said they had experienced drift — when compared to the 65.9% of this year that represents a 20% increase in Joy-Con drift issues year-over-year.
This annual increase in those saying they've had to deal with Joy-Con drift is not a good sign and suggests Nintendo has yet to get a real handle on resolving the seemingly widespread issue.
Curiously of those who faced problems only around 20% sent their drifting Joy-Con to Nintendo for repair.
The majority (93.2%) of those who did send their broken controllers into Nintendo received a free repair.
If Nintendo did charge a Switch owner for a Joy-Con repair, the data shows that the price for this fix seems to be around $40 USD.
Around 450 respondents said they have had to send in their Joy-Con controllers to Nintendo for repair more than once.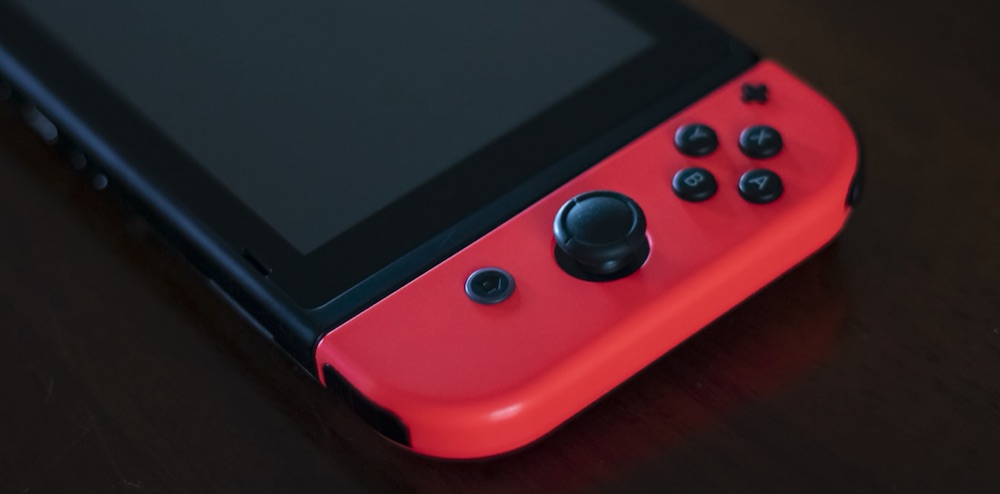 Beyond Joy-Con drift, I ask if Switch owners have experienced any other form of hardware issues. 75% said they had no other issues. Around 25% of respondents said they had.
Just like last year, the most common hardware issue beyond drift was other Joy-Con problems - be it controllers disconnecting or buttons jamming. Nintendo needs to get this solved for whatever new hardware comes next.
Broken kickstands, deteriorating battery life, and scratched screens all saw plenty of responses here too. I'd put forward that battery life and screen scratches are no doubt a result of heavy use and general wear and tear — but as for the kickstand, it's no surprise to see folks saying it's broken — it's very flimsy.
As fixing Joy-Con drift is now a given, I asked what is the one other hardware improvements folks would want to see - longer battery life and Bluetooth support took the top spots. A higher resolution screen and increased storage space were also popular choices.
I asked those filling the survey to share any comments about how they felt about the Switch hardware and its general durability. Here are a few comments:
"Apart from Joy-Con drift, everything is fine with my Switch."
"An overall more durable and lasting Joy-Con would be appreciated given their price. The Switch itself has fairly solid hardware, aside from needing an Ethernet port."
"Aside from the kickstand, the Switch seems adequately durable. Drift issues are a concern, though I have not experienced this."
"..it's very disappointing that the Switch doesn't have Bluetooth compatibility in 2021."
"I have been lucky enough to not experience Joy-Con drift. However, considering how widespread it is I think Nintendo would do well to redesign the controllers for whatever is next."
"Comparing it to previous Nintendo hardware, it feels much more fragile..."
"Considering how much it has been played since launch it's having a pretty good inning."
"I have been using Nintendo products since the late 90s and the Joy-Con controllers are the first and only piece of Nintendo hardware that I've ever had to replace."
---
After asking about hardware, I moved onto a few questions about any potential software issues people may have faced. Thankfully, these aren't anywhere near as common, with only 15% of respondents saying they'd experienced some form of software-related problem. These mainly include games or the operating system crashing/freezing. Performance issues with Minecraft in particular were mentioned a fair few times. A couple of folks mentioned Wi-Fi problems, however, this could be classed as a hardware issue.
As for what software improvements people most want to see on the Switch, more themes remain the top request. Media apps (such as Netflix), an achievements system, and some form of built-in messaging service also remain sought after improvements. Folders and improvements to the eShop also ranked highly. A handful of responses said they would like to see some form of StreetPass service added to the Switch.
---
Next, I asked if folks had changed the plastic shell of their Joy-Con controllers. This DIY mod gives your controllers a custom look, and it remains a niche activity, as just like last year, only around 6% of respondents said they had done this.
Again, just like last year, the modding scene remains an enthusiast affair - as only 3.6% said they had modded/hacked/altered their Switch in some way.
---
🔮 Looking ahead
The last round of questions tends to look ahead to the future, asking what people still want from the Switch.
I start by asking which Nintendo franchise people feel is missing from the Switch library.
Here are the top five responses:
Metroid
F-Zero
Star Fox
Earthbound (Mother)
Kid Icarus
Yep, we know Metroid is on the way, and it remains a highly anticipated release, as it took the top spot in 2020 too. Let's hope we get some Metroid news (whether Prime 4 or something 2D) soon.
Last year's survey saw both Pikmin and Paper Mario in this top five, so it's nice to have since had those two franchises see a Switch release (even if one was a port). Star Fox and Kid Icarus are the two new entries to this top five.
Other popular responses included: Super Mario Strikers, Wario Ware, Golden Sun, some sort of Wii Sports successor, and a Rhythm Heaven release.
I also ask which one game that's already been announced folks are most looking forward to. From 10,787 responses the Breath of the Wild sequel is by far the most anticipated Switch game (34.1%) — followed by the aforementioned Metroid Prime 4 (8.4%), Splatoon 3 (7.6%), and the imminent Monster Hunter: Rise (4.7%). Skyward Sword HD (4.6%), the new Mario Golf game (4.5%), and New Pokemon Snap (4.0%) were also popular choices. The other 32% of responses were made up of countless other titles, including Shin Megami Tensei V, Hollow Knight: Silksong, and the Project Triangle Strategy title.
I then ask what third-party franchise people want to see come to the Nintendo Switch.
For the third year running Persona is the most wanted franchise on Switch — I will caveat that although Persona 5 Strikers is on Nintendo's machine now, the responses here refer to the main series and not any spin-off titles.
For third-party franchises on the Switch, these are the top five responses:
Persona
Grand Theft Auto
Fallout
Halo
Kingdom Hearts
Grand Theft Auto on the Switch feels like something of a missed opportunity at this point. GTA V came out on the Xbox 360 and PlayStation 3 back in 2013, so a Switch port doesn't feel like it's outside the realm of possibility. But even failing that, some of the earlier GTA games, such as GTA III and Vice City, saw smartphone releases back in 2011/12. So putting something from the series on Switch would be a surefire hit — the appetite is there.
Other popular responses included games such as: Call of Duty, Mass Effect, Metal Gear, Yakuza, and Genshin Impact.
---
There has been a noticeable uptick in the number of credible rumours in the past year in regards to refreshed/new Switch hardware from Nintendo. As such, we do now have a rough idea of what any potential new model may bring to the table. However, nothing is official until Nintendo says so. Therefore I ask the following question: Without knowing any details, how likely would folks be to buy an updated Nintendo Switch - sight unseen. Now, as I said, I know most won't make such a blind purchase, but I ask this to get some sort of reading on Nintendo customer loyalty.
The average response, on a scale of 1 to 10, landed at around 5.3. Around 20% of respondents to this question selected 10 on the scale, meaning they would buy Nintendo's next hardware without any prior knowledge.
---
Last year I asked how many years Switch owners expect Nintendo to continue to support the platform, releasing games, hardware refreshes, software updates, etc.
This year I asked the same question, and Switch owners would like Nintendo to continue to support the Switch for a further five years. Considering the response in 2020 was six years, this makes perfect sense — you survey respondents are a consistent bunch.
To save you busting out your calendar such a lifespan would see the Switch supported into 2026 - making it around nine years old. Depending on what direction Nintendo takes with any new hardware this year, I reckon this could well be a realistic expectation.
A quick aside: Going beyond Nintendo I also ask what other systems people owned. As you'd expect PC came out on top, with 72% of respondents owning one, the Mac came in at 21%. As for purely gaming platforms, 41% owned a PS4, 18% have an Xbox One. VR (Oculus, Vive, etc) ownership stands at 12%, and those signed up to Google Stadia make up 2.3% of respondents. A few new options for this year: 11% said they own a PS5, with 5.4% saying they own an Xbox Series S or X.
To close things I ask people how satisfied they are with the Nintendo Switch overall. On a scale of 1 to 5, the average comes out at 3.9. This was at 4.4 last year. I wonder why this has slightly dipped — I imagine the continued unease around Joy-Con drift has not helped the long-term perception here.
I'll end this extensive write-up with some parting comments (both good and bad) from survey respondents:
"..it's one of my favorite systems and the fact that I'm able to play complex games on the go is amazing!"
"As a Wii U owner and lifelong Nintendo fan, I am very happy that Nintendo has become mainstream again with the Switch, and many of the games on the platform are amazing. The focus on third-party support, especially indie games, has also been a breath of fresh air. However, I also believe that Nintendo no longer has to try to succeed, so they are more willing to charge more for less and wait years to properly bring old games to the platform. This is disappointing, for it hurts the consumer and possibly also the public opinion of Nintendo."
"[Nintendo are] great doing their own unique, innovative, charming thing."
"Although I am extremely happy with the Switch and its library of games, I do feel Nintendo is becoming complacent with ports, a lack of UI updates for the Switch, poor stock management, and communication. I worry the success is making them lazy, instead of striving for fun titles and innovation they will lean heavily on reputation and re-releases."
"Having a Nintendo Switch helped me get through the COVID pandemic"
"I don't think Nintendo can ever go back to having separate console/handheld hardware. They struck gold with the Switch and it being a hybrid is really their unique selling point at the moment. I hope they realize what a unique position this is and that, whatever comes next, will have to be 'next level' in comparison to the Switch."
"Great console, love the mobility"
"Durability on the controllers is the most pressing issue by far. It is unacceptable that such 'high end' controllers do not last."
"..despite poor graphics when compared to other systems, the versatility it offers is a good trade."
"I really like the Switch and Nintendo as a whole. However, I am not pleased with certain business decisions meant to drum up artificial scarcity..."
"I adore it. I play it 90% handheld but I love being able to dock it for game nights or just when I want to take in the beauty of Breath of the Wild or my island on Animal Crossing. Truly a blessed system"
"It isn't perfect, but it has exceeded my expectations. I have used the ability to seamlessly change between TV and handheld mode way more often than I originally thought I would."
"..one of Nintendo's most innovative consoles."
"I hope Nintendo sticks with the Switch hybrid concept"
---
🎉 That's it!
A huge thank you for taking time out of your day to look through all of the survey results - I hope the results proved interesting.
I'd like to extend a massive thank you to all those who took the time to fill out the 2021 survey, share it, and generally make it such a success once again. Your continued involvement in this extensive annual project of mine remains humbling.
Of course, if you took the survey and have suggestions, or you've just got some comments/thoughts having read the results please do drop me a message via Twitter or drop me an email at chris@switchweekly.com.
Finally, as I'm sure you can imagine, crawling through all the data and putting the results together takes an appreciable amount of time — so if you've enjoyed this please do consider 'buying me a coffee' or supporting my work via Patreon, or buying a 60-page PDF version of this report If you don't know I also publish a weekly Nintendo newsletter — you should subscribe. 😊
Thanks,
Chris ✌️
---